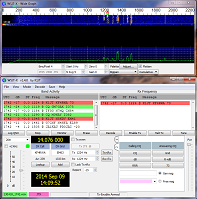 Uscita la prima RC della versione 2.6.0 di WSJT-X:
Note di versione:
Release: WSJT-X 2.6.0-rc1
June 16, 2022
----------------------
WSJT-X 2.6.0 Release Candidate 1 introduces support for the ARRL
International Digital Contest; performance enhancements for FT8, Q65,and EME Echo mode; new controls and options on the GUI; and severalbug fixes.
Improved decoding for FT8: additional messages are marked 'a7'
Improved decoding for Q65 when AP is in use
Optional new "Active Stations" window and other features supporting ARRL International Digital Contest
Accurate SNR measurements in Echo mode, including large Doppler spreads
Add mode selection buttons on main window for FT4, FT8, JT65, MSK144, and Q65
Add a button to toggle FT8's Hound mode ON or OFF
Add a "Clr Avg" button for Echo mode
Add optional highlighting of DX Call and DX Grid
Add optional highlighting of messages containing RR73 or 73
New options for writing to ALL.TXT: split the file yearly, monthly, or disable writing altogether
Add Russian to available translations of user interface
Add a 90 s Tune watchdog with optional disable
Allow auto reply for non-CQ messages via UDP (JTAlert, etc.) when Hold Tx Freq is enabled
Suppress transmission of blank messages
Suppress self-spotting when running multiple instances
Correct the handling of messages starting with "CQ xxxx ..."
Correct a flaw that could cause Windows to drop audio samples
Correct a flaw that could send incorrect frequencies to ALL.TXT and PSK Reporter after a band change
Correct the auto-sequencing logic in several specific circumstances
Correct a flaw in WSPR mode when handling three-character callsigns
Correct a flaw that could cause OmniRig 1.19 or later to set incorrect frequencies after initialization
Clean up some ToolTips
Fix an inconsistancy in the macOS installation package that caused the pwr slider to behave incorrectly on macOS 12
In program MAP65 (Windows only):
- Send additional information to file azel.dat
Allow optional scaling of digital I/Q data
Suppress a bounds error caused by too-wide setting of display bandwidth
Versioni precedenti
WSJT-X - 2.5.4 
Note di versione:
Release: WSJT-X 2.5.4
January 3, 2022
----------------------
This is a bug fix release. It has the following changes since
release 2.5.3:
WSJTX:
- Repair a defect that caused occasional crashes when in QSO with stations using nonstandard callsigns.
MAP65:
Allow MAP65 "Best-fit Delta phi" solution to be displayed to the user.
WSJT-X - 2.5.1
Note di versione:
Release: WSJT-X 2.5.1 Oct 21, 2021
----------------------
This release mainly contains improvements and defect repairs related to Q65 and JT65 modes when used with non-standard and compound calls. Also included is a new feature for microwave aircraft scatter and repairs for defects detected since the 2.5.0 GA release.
Improved Q65 support for 10GHz Aircraft Scatter contributed by Rex, VK7MO, and Roger, W3SZ. (See "10 GHz Terrestrial with Q65" in DUBUS Vol 1/2021 page 64.) Decodes of type 'q3' may now include corrections for frequency drift.
Repair a defect that failed to pre-load the DE and DX calls to the hash lookup tables in the Q65 decoder.
Repair standard message Tx4 and Tx5 generation in Q65 mode when using a non-standard call.
Repair a defect in generation of the standard Tx2 JT65 message in EME mode when using a compound call.
Repair a defect when decoding 77-bit type 4 non-standard call message.
Repair a defect that could cause a crash when switching from Q65 to JT65 mode and attempting a double-click decode.
Enable 'q3' AP decoding in Q65 mode for messages containing a non-standard call.
Repair a defect that required a blank DX Grid to achieve Q65 'q3' decodes of messages containing a non-standard call.
Repair the logic that sets parameters for Q65 "Deep" decoding.
In Q65 mode, allow 'q2' decodes when MyCall is compound or non-standard.
Repair a long-standing defect that could cause a crash when reference spectrum correction is enabled.
Updated UI translations from Xavi, EA3W, Oba-san, JA7UDE, and a new translation for Traditional Chinese by Steven, BU2EL.
Updated CTY.DAT database, tnx to Jim AD1C
Improved main window layout to ensure TxN messages are fully visible.